Gabrielle Dunn began her martial arts training at the age of three and today, at age twenty, she shows no signs of slowing down.
Her years of training have paid off, as Gabrielle is now ranked first degree in Goju Ryu Karate and a second degree in Tae Kwon Do. She trains daily in order to compete with Team AKA as a traditional competitor on the NASKA and Krane Circuits, where she works with her favorite weapon, the bo staff.
Gabrielle's martial arts training has allowed her to appear numerous times on screen. She has performed in two music videos: "Cuando Me Enamoro" by Enrique Iglesias and Brendan James' "Green". In addition to her work in the music industry, she also appeared live in front of a national audience on Good Morning America, and she has performed on various international shows with AKA Sideswipe.
Gabrielle's favorite martial artist of all time is Rika Usami, now-retired Japanese world champion in karate, and her martial arts role model is the late Jhoon Rhee, who is known as the "Father of American Tae Kwon Do" since he popularized the sport of Tae Kwon Do in the U.S. in the 1950s.
Gabrielle currently attends Western Connecticut State University and lives in Danbury, Connecticut. She is currently working towards a Bachelor's degree in Communication Disorders and Sciences. After undergrad, she intends to get her Master's degree in order to pursue a career as a speech pathologist.
In her free time, Gabrielle has worked with the Dream Come True Foundation of Western Connecticut, a volunteer organization that seeks to lift the spirits of chronically or terminally ill children in the region.
She has many talents in addition to karate. She has taken voice lessons since she was ten years old, she is a kickboxing instructor, and she was a cheerleader for seven years. With that arsenal of skills, it's no wonder she was crowned Miss Teen Connecticut International in 2016.
Gabrielle is also a seasoned world traveler, having been to nine countries, including Ireland, Thailand, England, Scotland, Canada, Aruba, Antigua, Spain, and Morocco. She loves competing with Team AKA because of the strong family atmosphere. Gabrielle strives to live her life in accordance with her favorite quote by Christopher Reeve:
"A hero is an ordinary individual who finds the strength to persevere and endure in spite of overwhelming obstacles"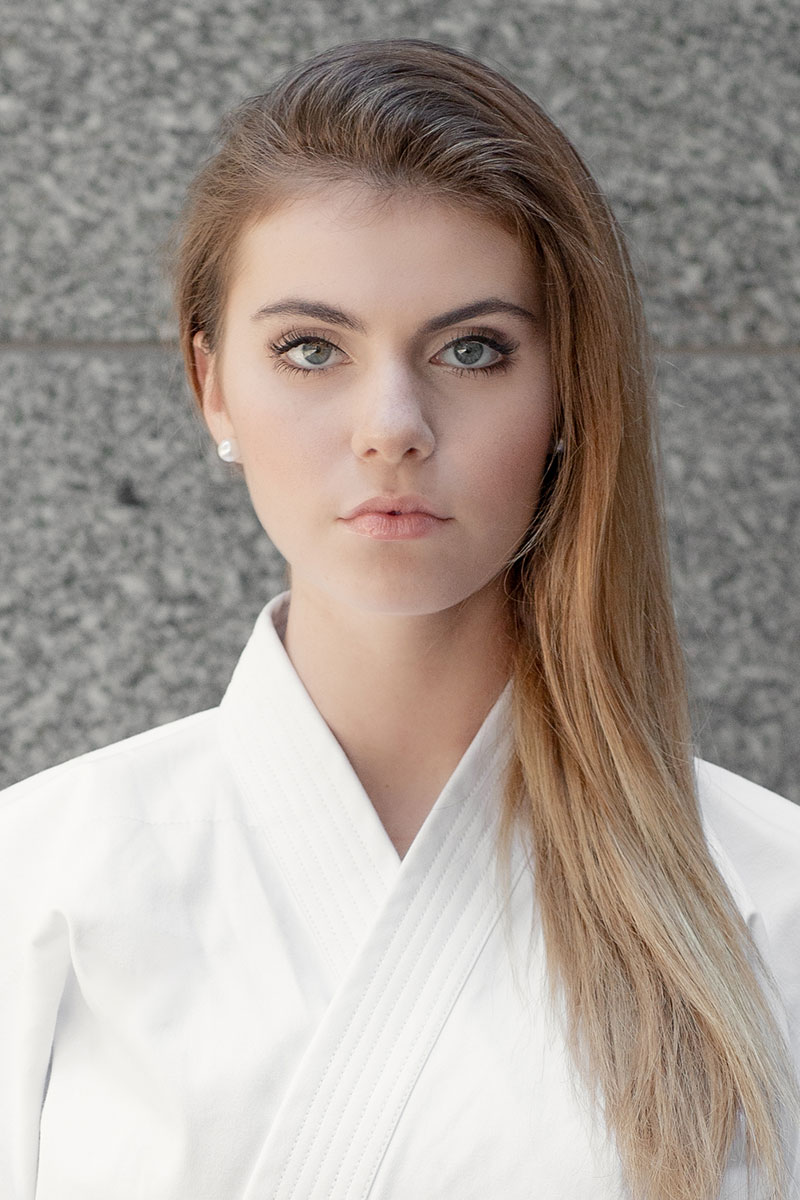 Athlete Gabrielle Dunn
Location Danbury, Connecticut
Spotlight Team AKA Co-Captain; Miss Teen Connecticut International; NASKA, WAKO, & WKU World Champion
AKA ID 12-3343